Kobe Bryant grinned and uttered the word "irony" as he considered the fact that the team that drafted him nearly 17 years ago was his opponent on the night he eclipsed a scoring milestone to join an exclusive club of NBA greats. On Wednesday, by scoring 29 points in a 103-87 triumph for the Los Angeles Lakers over the New Orleans Hornets, Bryant became the fifth player in NBA history to score 30,000 points.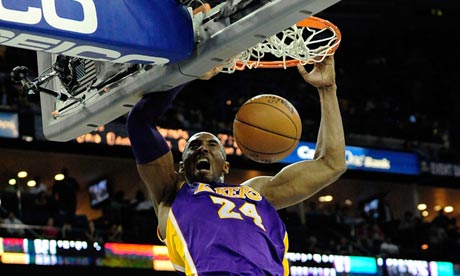 It's easy to forget that it was the Hornets who drafted and then traded Bryant away back in 1996. In the years since, the Hornets have changed cities, from Charlotte to New Orleans.

"It's funny how sports always seems to kind of have that connectivity, in some shape, form or fashion," Bryant said. "It just always seems to come full circle."

Bryant entered the game needing 13 points to make history and no one doubted he would do it. NBA Commissioner David Stern, who happened to be making a scheduled visit with new Hornets owner Tom Benson, offered Bryant a congratulatory hand shake before tip-off.

Bryant had 17 points by halftime, eclipsing the 30,000-mark with a short jumper in the paint over Robin Lopez late in the first half. That might have been the least spectacular of his baskets, which included the usual array of soaring dunks, demoralizing transition three-pointers and twisting, off-balance jumpers.
この記事に対するトラックバック
この記事のトラックバックURL